Hello, my name is Michele... 
I have always lived a simple lifestyle filled with passion and a desire to change things. I have dedicated half of my life to creating everyday household products, beauty aids, herbal remedies, and mouth watering gourmet foods & confections mostly from organic plants and items I grow myself.
Give me a shovel and I'll give you a fully functioning, gourmet, biodiverse, "Edible and Herbal Backyard Food Forest!" Give me a harvest, and I'll give you an entire year's worth of everyday homemade necessities, scrumptious gourmet meals, and useful holiday gifts. 
What inspired me...
My daughter, Gabriele, was born weighing one pound and eight ounces. She was so weak and small that she could fit in the palm of my hand. At age 10, she became so ill that we almost lost her. She needed a kidney transplant ASAP, which my husband graciously and heroically donated. She FINALLY felt like herself again, and we realized quickly that she needed to do everything possible to avoid her body rejecting this new kidney in the future. So we took drastic measures to make changes.
I combined the ideas and practices of her medical professionals, with my knowledge of the power of natural foods and homemade remedies. I am convinced that dialing back the stress is necessary, along with playing a bigger role in our everyday "food and drug" choices that we have always trusted others to make for us.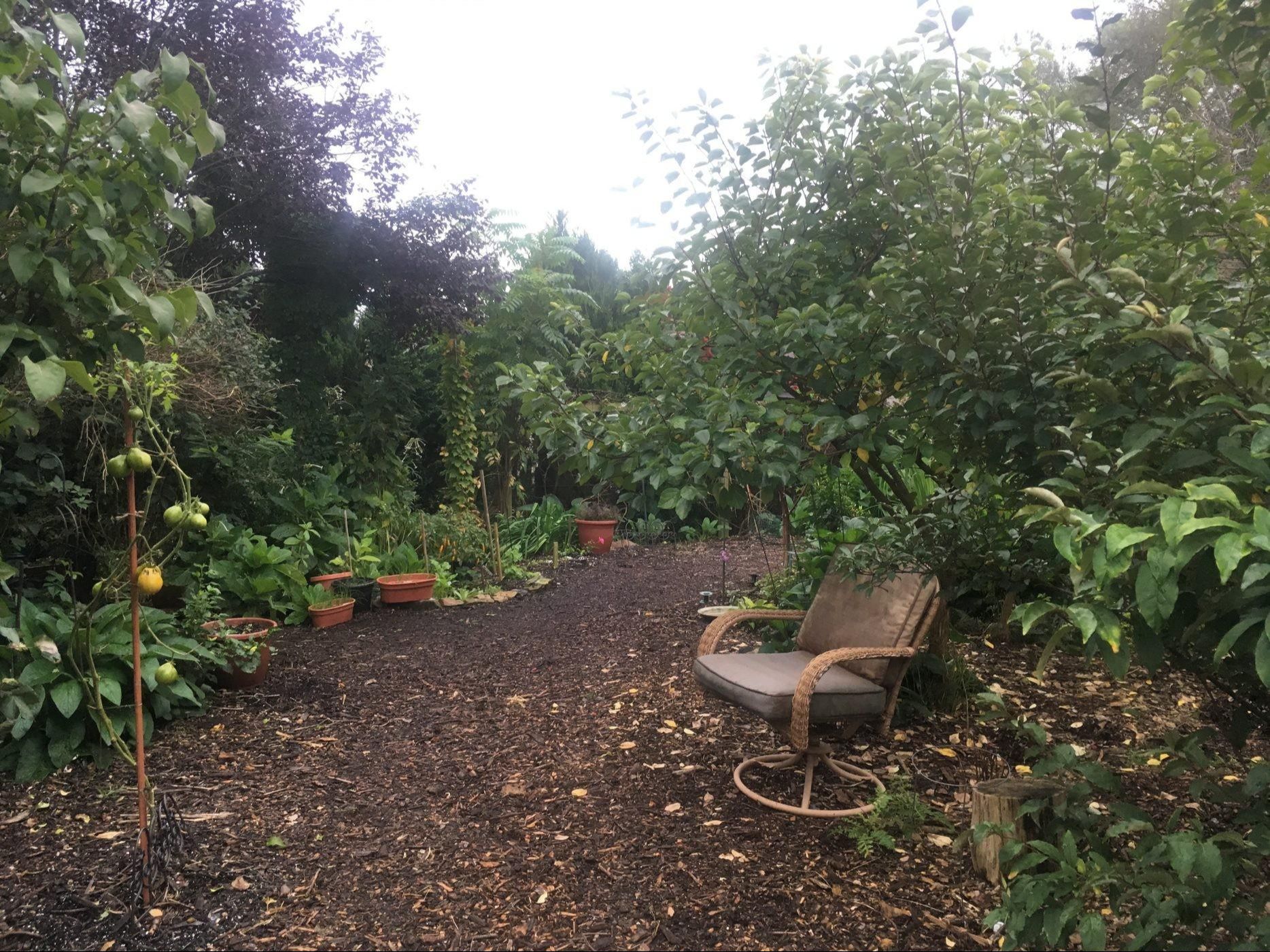 I grew up in a gardening family...
I have grown food throughout my entire life regardless of where I was living. After completing master gardening classes, I spent the past 17 years designing a 95% edible and herbal landscape right in the middle of my suburban, half acre backyard in Pennsylvania. I have everything you can imagine planted including hundreds of fruits, herbs, vegetables, nuts, roots, companion plants, perennials, and extremely fragrant flowers. All of this is compacted together into one self-sufficient biodiverse ecosystem.
My main objective has always been to become more self-sustaining, grow healthy toxin free foods, and to focus on plants that grow well in our cold Pennsylvanian climate. The results have been outstanding...far beyond my wildest dreams!
This is my lifestyle...
It is a day-to-day ritual that I have simplified tremendously. It is a lifestyle that brings stability to our family and benefits everyone involved. And it is a lifestyle that has saved us thousands of dollars every year.
In an emergency situation, we never worry or rush to the grocery store, because we have everything we need at home already. Now, I merely buy meat and other staple ingredients that I cannot grow myself in bulk from as many local sources as possible. I grow just enough of my own ingredients and supplies that will last us for one entire year, then I start the whole process all over again in January. It is well planned, journaled and even broken down monthly.
In my eyes, it's just me being a mom. This is my life, my passion, my joy, and my soul. This is what I was born to do, and I can't wait to share it all with you.
Say hello to my team...
This is my son DJ, and his fiancé Laura. They keep me focused and grounded, and have really taken The Homemade Gardener to a whole new level! They are here to help along the way with any technical issues if you ever need anything. My daughter is now working hard behind the scenes to ensure everything runs smooth. My niece Maggie also helps, she is responsible for some of the adorable graphics and logos I use! I am blessed to have such a loving, supportive family!
So sit back and enjoy some YOU time!! We will do our best to guide, help, teach, and inspire you! If you have any questions use this link below, our team will get back to you as soon as possible!
(Link coming soon)